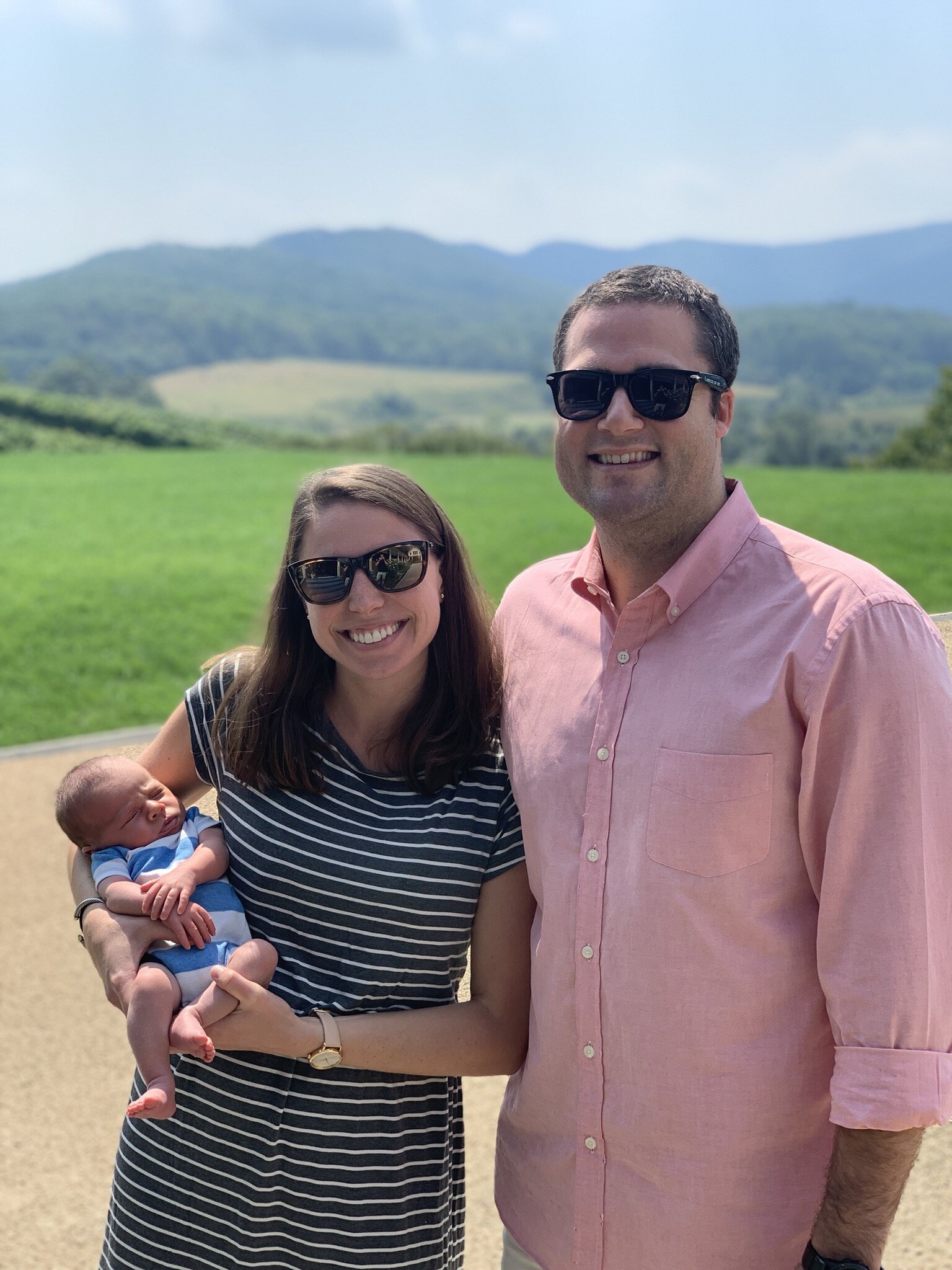 Alexa, Braxton & Baby Theo
August 2019:
I cannot say enough wonderful things about Hunter! Deciding to have a doula and finding Hunter were some of the best decisions that we made during our pregnancy. Since this was our first birth experience, my husband and I felt so much more at ease knowing that someone who knew what was going on would be there to guide us through the process. I seriously feel like we would not have had such a smooth, positive experience without her! Hunter's calm, confident presence was exactly what we needed to help us have to birth that we wanted!
December 2018:
We don't even know where to begin. We met Hunter in the Childbirth Education class. We loved right away how caring she was. She took her time to talk to everyone and she always made sure that everyone felt heard and safe, that all questions got answered and most importantly that we felt ready for childbirth. Talking to her took my fear away and we felt so prepared.
We called her after my water broke in the morning and just her calm self made us relax and just take one step at a time. Since my labor progressed pretty fast, she didn't spend much time at our house but just having her there, helping me get dressed for the hospital and making sure we had all we needed was everything.
When we arrived at the hospital, she made sure we felt comfortable and safe. I personally really enjoyed her calm vibes as I progressed really fast and was a little freaked out. She helped me relax and take one breath at a time.
We are first time parents and having a Doula was the best thing we could've invested in. We didn't know what to expect. The classes can only prepare you so much and having Hunter be there for us, every step of the way, made us stay so much calmer during labor.
We HIGHLY recommend Hunter. We absolutely loved her. We truly believe the birth of our son would've been different without her. AND I will cherish the photos she took for us forever.
September 2018:
Hunter was the best decision we made after deciding to start a family. She was more to us than a birth doula, from telling me what foods would be best early on, to curating my registry, to normalizing everything about pregnancy that feels completely abnormal, to helping us mentally prepare in the weeks leading up, to working around our limited schedule when my husband moved to Raleigh, to finding someone who would do personal classes in my home because of my crazy schedule, to cutting off the valet line at VCU hospital so she wouldn't leave our side, to advocating for us to get a room with a tub when they were out of rooms when we got to the hospital, to decorating that room with twinkle lights before I even got in there, to talking my husband off a ledge countless times the day Sonny was born, to taking beautiful photos of our family the minute Sonny was brought into the world, to calling me when I inevitably had that new mom breakdown about breastfeeding within the first week... and coming to my home and holding my hand for the one I had the next week... and all the little moments in between when she provided peace of mind. I had the most textbook awesome birth story, and I know some of that must be luck, but I believe much of it has to do with Hunter's support, preparation and presence. Before she got to my house I was ready to leave for the hospital, but when she got there she helped me labor for 2 additional hours there and that helped significantly by the time I got to the hospital. She made me feel comfortable when I was put in a triage room with no doctors and getting sick all over the place. Her magic peppermint cotton balls helped tremendously. And she wasn't disappointed when I yelled for an epidural at 8 cm after I tried the tub, and held me when the epidural didn't go as planned and I gave birth naturally anyway. It was perfect and I have Hunter to thank 100%. Hire Hunter. You won't regret it.
April 2018:
Hunter is the most incredible doula (and person!). My husband and I look back on the birth of our daughter with such gratefulness that Hunter was with us. She spoke gentle and encouraging words, gave clear advice, helped me to do things to keep labor progressing, and always took into account how I was feeling emotionally. Because of Hunter, we didn't have to be as concerned with googling what things meant, hours of timing contractions, when to leave for the hospital, or a million other questions... because, Hunter knew! We also so appreciated her help once we got to the hospital; there were several other births going on as well that night, so a nurse wasn't always in the room. Hunter took care of me and anything we needed, and was there to help me know what I could/should be doing at any point. She created a peaceful environment for us, knew what was happening with me every step of the way, and could help explain things as they progressed. She completely supported us and our decisions, and patiently walked with us through something she understands well and has been through. Just having her there and having her support brought so much peace into our experience; I can't imagine how much harder it would have been without her! Even after labor, Hunter continued to check in and care for us on everything from my emotions, to baby care, to breastfeeding. She was amazing, and I can't recommend her highly enough!
February 2018:
My husband and I knew we wanted as natural a birth as possible. The midwives we were working with suggested we work with a doula to enhance our experience and follow our birth plan. Enter Hunter - the most amazing and caring person one would want to have by their side during the birthing process. She has a quiet strength about her that instantly put us at ease. Hunter offered us gentle guidance and advice before, during, and after we delivered our son. She met with us to solidify our birth plan, recommend birthing classes and explained the process to us. During delivery Hunter was with us offering support to my husband as he helped me through labor, and guiding me as well. We ended up having a c-section and Hunter even accompanied us into the operating room. Her presence was so welcome during an exhausting and exhilarating time. A few days later Hunter came to visit to check on us and helped me with some breastfeeding questions. Even now I know I can text or call her for support. We are so happy we made the decision to have Hunter with us during this journey.
Courtney, Phil & Baby Quinn
January 2018:
When my husband and I found out we were pregnant, we started to research options for support during birth. We were both hesitant about using a doula and wondered if it was really necessary until we met Hunter. She guided us through every detail of what the birth process would look like and helped me to develop a manageable and comfortable plan for labor and delivery. To say my husband and I were clueless when we started this process is putting it mildly. Hunter educated us on everything we needed to know and when the big day came to have our baby, Hunter was by our side for almost 30 hours. She offered endless support throughout the process and calmed our anxieties as we journeyed through labor. Hunter is warm, kind, and welcoming. I felt immediately comfortable with her and I'm not sure I would have had such a positive birth experience without her. For anyone on the fence about using a doula - especially for your first birth - take it from us and use Hunter. You won't regret it.
October 2017:
When my husband and I first started talking about our birth plan, I realized a third party might be a good idea. I needed to talk about all things pregnancy all the time (the internet research, all the registry options, sift through the hospital classes, and discuss my cervix, etc) and Hunter was always available to chat. Having a doula kept me informed and grounded while we prepared for the baby and Hunter was a friend to me throughout the whole process. As much as I appreciated her reliability and kindness during pregnancy, I was most grateful to her during my labor and the delivery of our son. As soon as my water broke we were on the phone talking about my options and how I felt about each outcome. She was a perfect addition to our team and I believe the medical team was also grateful for her calm and supportive demeanor in the delivery room. She tended to me when I was in pain and even held my leg when I brought my baby into the world! I would recommend every woman to have a doula and Hunter is at the top of the list!
Parnie, Brad & Baby Violet
June 2017
My interactions with Hunter were always warm, supportive, & informative during my pregnancy. I didn't fully realize how truly PRICELESS she was until I was in the middle of (a long and exhausting) labor. She is the #1 reason I was able to reflect on such on arduous process and say that it was overall a positive experience. Because of her, I was able to have the birth outcomes I wanted, and that has really helped things go smoothly postpartum for me and baby.
Hunter stayed with me for two long days of active labor. She was attentive, yet mellow and comforting. When I was struggling through long, intense contractions and hours of pushing, Hunter had the exact vocabulary to help me make them as manageable and productive as possible. I didn't realize there would be so many times when there was no nurse or doctor in the room and Hunter was the one there to do basic bedside support things like keep me hydrated, adjust my bed/pillows, monitor our vitals, talk me through what was happening and what was about to happen, and even keep me cleaned up through 4 rounds of getting sick. There were times when we were on the cusp of major medical decisions when my OB wasn't there and my husband and I were so exhausted that we couldn't even remember what we'd read about or what we thought we wanted. Hunter was there to help remind us of the pros/cons that the hospitalist wouldn't have.
When I was in a negative space and my poor husband was exhausted, she had the positive words to keep us going without being annoying about it! My husband appreciated her as well because she helped him know exactly what to do and when in order to be most helpful to me when neither of us was really sure where we were in the process. Her postpartum visit also helped me process the sequence of events in the hospital and ask the lingering questions after I'd had some time to reflect on my experience.
April 2017
Where do I even begin?! Hunter was truly incredible in more ways than my husband and I could have ever imagined! After our first meeting, Hunter blew us away with her knowledge, strength, compassion and commitment to being a doula and she made me believe I could do whatever I wanted and that I had options. From the moment I met Hunter, she was friendly, warm and supportive. She made me feel 100% comfortable as if she and I had been known her for years, which truly helped me throughout the entire process.
When my labor started, Hunter was in touch with me often (without being overwhelming) and she was ready to come over whenever I needed her. We called her in the middle of the night and she came right over to relieve my husband so he could rest and she stayed by my side comforting me physically & emotionally, putting heat on my hips and back, keeping me hydrated & timing my contractions until it was time to go to the hospital.
She helped keep me calm & positive and was supportive and encouraging for my already amazing husband. Somehow we had forgotten everything we learned in our birthing class and she was able to bridge the gap in communication between us and the doctors/nurses and she explained exactly what was happening at each step of the way. She helped us make some really crucial decisions in the moment which ultimately helped me have a smooth labor.
In the early days postpartum, Hunter checked in with us and came to visit. She answered our laundry-list of questions and gave us tips and tricks to make our lives a little easier. She reassured us that we were doing a great job as new parents! Hunter was patient, calm, informative, empowering, thoughtful, encouraging, funny and so much more. She played an essential role in our positive birthing experience and we truly could not have done it without her. We are forever thankful for Hunter and are so proud to call her our doula, and new friend.
Laura, Evan,
Big Sis Pippa
&
Baby Sienna
November 2016
Where do I even begin with Hunter?! First of all Hunter is amazing! She is one of those people you meet that you instantly feel like is your friend. She is extremely warm and easy to talk to. You can also immediately tell she makes no judgments, which for me was crucial through the birth experience. With my first daughter I had very little support from my husband, I don't think he knew the first way in which he could help me. With the 2nd birth I knew that I wanted someone that could understand me and be there for me in the delivery room and leading up with questions. I also love that Hunter is a mother herself and has her own birth story which is what really influenced her to be a doula.
Hunter came to our home where we went through a long discussion of our history with my prior labor and what I was really looking for in a doula. She immediately made me feel comfortable which is super important. What I really loved about Hunter is that she follows your lead. When we first met she said a doula is there for you through the process, they are there for whatever you need. Hunter completely took my lead as far as my needs and wants in the delivery room.
In the end I feel like Hunter is part of our family, I cannot wait to introduce her to our daughter when she gets older and tell her that she helped mommy through the birth process. Birth and labor is an incredible experience and it was amazing to have Hunter by my side. She has a natural gift for what's she's doing and I know she will make a lot of women incredibly thankful for her support and empathy through the process.
Christine, Lenny &
Baby Ellis
July 2016:
As a wedding planner, I knew the importance of having a partner to guide me through a new/emotionally-charged situation. It's the same advice I give my clients while they plan expensive weddings, so I thought I'd take my own advice and hire someone to guide me through the birthing process.
Hunter sat down at my home with my husband + I when we were 3 months along. We were both equal parts excited and nervous and having someone who had just had a baby was helpful. She asked us questions we had never really discussed like what kind of birth experience we wanted, what we were afraid of, what we were excited about, and what kind of birthing partner I wanted/he wanted to be. It ignited a great conversation and we all left feeling like we were a real team.
At 6 months, the three of us attended a birthing class together. There we learned about the stages of labor, how to progress calmly through each, what to expect in each stage and how both of them would support me through each of them. We walked away feeling confident, educated and supported. We had a list of snacks to buy, supplies to acquire and a real game plan.
By the time my water broke, all 3 of us knew the game plan and what role each of us played. There was no fear, doubt or frustration. My husband is not very assertive, so it was nice to know that we had already discussed his role would be to support and soothe me, while Hunter would handle encouragement and logistics.
It took alot of the doubt and stress off of my husband and I. He had his job and she had hers. He was able to just be my husband and be present for the birth of our son. She held me accountable when I wanted to give in during the tough parts of labor, held my legs as I pushed and partnered beautifully with my midwife at VCU Medical Center to bring my baby boy into the world.
Having a calm, patient, wise, funny doula by your side is well worth your money. Hunter was perfect.